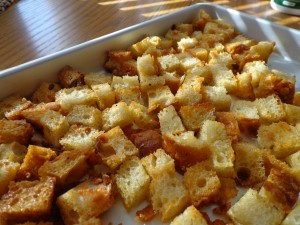 My daughter was just here last week visiting from Washington DC, and preparatory to her visit, knowing we'd be enjoying several homemade meals, I baked a fresh, fragrant rosemary focaccia loaf.  We did indeed share several delicious meals, and only managed to consume half of the focaccia…so here is an excellent way to use up the old focaccia loaf…purpose it into garlicy parmesan crusted rosemary croutons.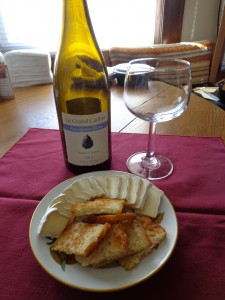 First I thinly sliced and grilled a few pieces of the focaccia cut into cracker sized pieces to serve with brie and wine.
Next I cubed the remaining loaf…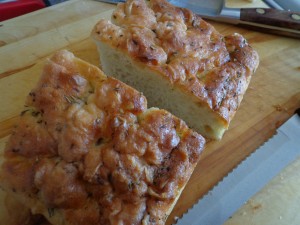 tossed it with some olive oil and cheese and quickly toasted the croutons in the oven for a few minutes….voila!  Fragrant, crunchy homemade croutons!
Garlicy Parmesan Rosemary Croutons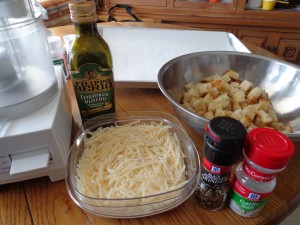 Ingredients:
1/2 loaf of stale rosemary focaccia bread, cubed
1/4 cup grated parmesan cheese
1/4 cup extra virgin olive oil
1/2 teaspoon garlic salt
1/4 teaspoon ground black pepper
Preheat oven to 350 degrees.  Line cookie sheet with parchment.
In food processor, whirl the cheese, oil and seasonings.  If you are using a plain loaf of french or italian bread, add some herbs such as thyme, rosemary or parsley.
In a roomy mixing bowl, combine the cubed focaccia with the oil/cheese mixture and stir until evenly distributed.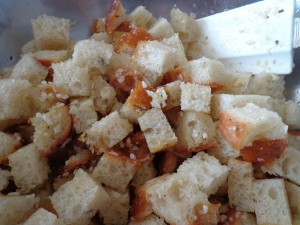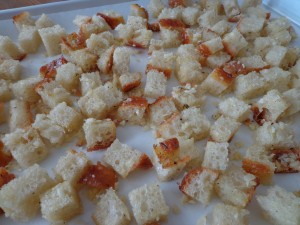 Toast in the hot oven 15 minutes until crisp.  Stir with spatula halfway through.
When toasted golden brown and crispy, remove from oven and slip the parchment paper out from under the croutons, so they don't get soggy as they cool.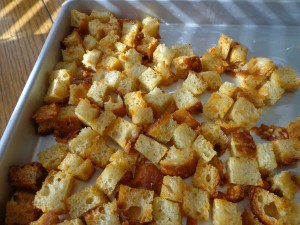 Let cool to room temperature.  Store in a sealed container for several weeks.