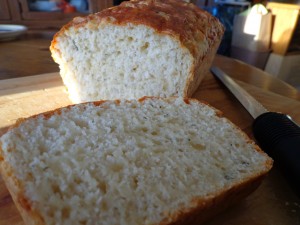 Whenever my children come to visit, I lay in a 6 pack of beer.  The last time this occurred, I happened to be serving a Mexican meal to them, so of course I picked up Dos Equis beer.  Unfortunately, because I am not a beer lover, whatever bottles they neglect to consume during their visits lays around in my refrigerator until the next visit.
Sometimes I'm inspired to use the beer to make a New England boiled dinner, or a corned beef & cabbage dinner.
Today, I'm trying out a quick bread recipe using a bottle of cold beer and flavoring the bread with some leftover dill I had frozen in my freezer from my last batch of spanokopita, and a little grated cheddar cheese.
This type of bread requires no kneading, just measure, mix and bake.  I looked up a number of recipes to see if there were any tricks to using beer as my liquid leavener.  In fact, all the recipes were very easy and had few ingredients.  I decided to try Alton Brown's recipe…barely restraining myself from frying up a few strips of bacon to crumble into the mix!  mmmm cheddar bacon beer bread sounds yummy!
Cheddar Dill Beer Bread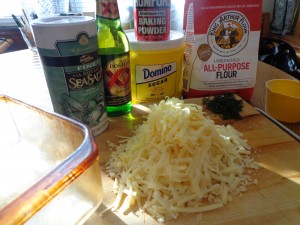 Ingredients:
3 cups all purpose unbleached flour
1 1/2 teaspoon sea salt
1 tablespoon aluminum free baking powder
1 teaspoon sugar
1 teaspoon minced fresh dill
1 cup shredded sharp cheddar
12 oz bottle cold beer
Preheat oven to 375 degrees.  Generously butter a 9 X 5 inch loaf pan.
Measure the dry ingredients into a large mixing bowl and stir to combine.  Add the dill and cheddar and stir to combine.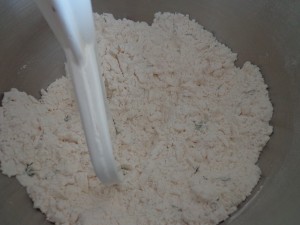 Pour in the bottle of cold beer and mix only long enough to form a ball of dough.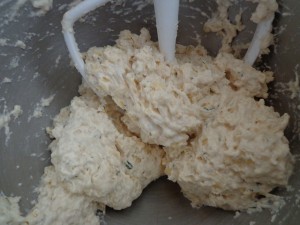 Turn into the loaf pan.  Sprinkle with extra shredded cheddar.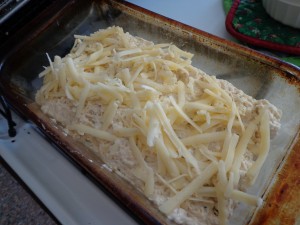 Bake for 45 to 55 minutes until golden brown.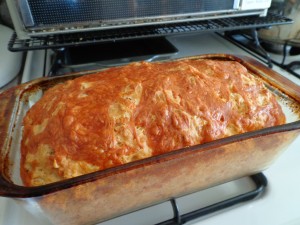 Let cool in the pan 10 minutes.  Then remove from the pan and let cool for another 10 minutes before slicing and serving.