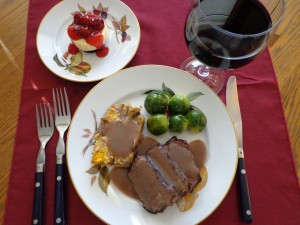 With a big nor'easter looming over the eastern seaboard, I decided to make a long leisurely day of slow roasting a beef chuck roast in the oven, along with a large pot of Tuscan bean and kale soup…the thinking being that since both recipes called for long and slow cooking, I may as well kill two birds with one hot oven…hahaha…very environmentally sound, huh?  Lucky me, my neighborhood supermarket had chuck roasts on sale, and thankfully I happened to have all the other ingredients in my pantry.  Who doesn't think of comfort food when contemplating a tender, delicious pot roast smothered in gravy?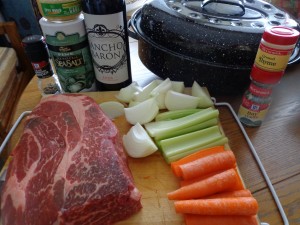 Ingredients:
3-4 lb beef chuck roast
3 medium carrots, washed
3 stalks of celery, washed
2 medium onions, quartered
2 cups red wine
2 bay leaves
1 tablespoon salt
1 teaspoon ground black pepper
2 sprigs fresh thyme or 1 teaspoon dry thyme
4 garlic cloves, crushed
2 tablespoon olive oil
2 cups stock, either chicken or beef
Preheat oven to 300 degrees.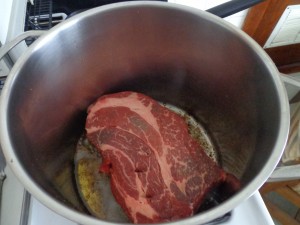 In large dutch oven, heat olive oil.  Brown beef on both sides until carmelized.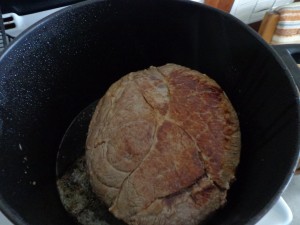 Add all the remaining ingredients, adding additional water if needed,  until liquid measures 1/2 to 3/4 up the height of the roast.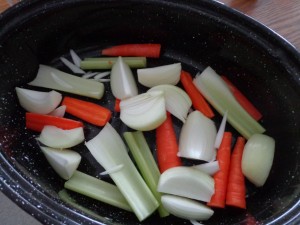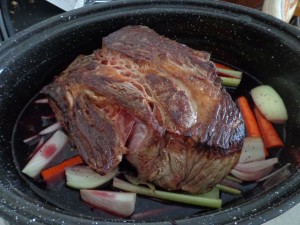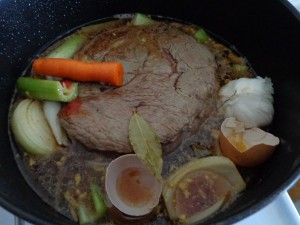 Cover and roast in the low oven for 3 hours.  Rule of thumb is 1 hour of roasting for each pound of beef.  Halfway through the time, I turn the roast over.
When tender, remove from the oven and let he roast sit 30 minutes on a carving board.
Meanwhile, strain the juices in the pan to eliminate the soggy veggies (or puree and add back to the juices to thicken the gravy without flour).  Skim the excess fat from the surface of the strained juices.  Mix enough flour into the fat to make a loose slurry, and stir the slurry back into the hot juices, whisking over medium heat until thickened.  Correct seasonings.
Slice pot roast and serve with piping hot gravy.