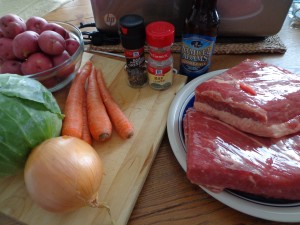 Ingredients:
1  3 to 4 lb corned beef brisket
seasoning packet from brisket or teaspoon of peppercorns and 2 bay leaves
1 bottle favorite beer
1 gallon water
1 medium onion, peeled and quartered
3 medium, slender carrots, washed, peeled and cut in half
1 lb baby red-skinned potatoes, washed & left whole
1 small head cabbage, outer leaves peeled and cut into 1/8th wedges
1 peeled large garlic clove
1/4 cup soft butter
1/4 cup chopped fresh parsley
Place brisket into a dutch oven or large soup pot.  Add contents of seasoning packet.  Empty bottle of beer over the corned beef and add ~ 1 gallon of water, so liquid covers the beef by several inches.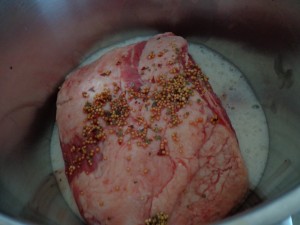 Add onion.  Bring to a rolling boil, skim off any scum from the top and turn heat down to a medium simmer (water should still be slightly bubbling.  Cover tightly and simmer for 3 hours.  Or place in 300 degree oven for 3 hours.
Remove lid, place potatoes and carrots on top of meat and continue to simmer 10 minutes covered.  Add cabbage wedges and cover.  Simmer 20 to 30 minutes more until cabbage is tender.
In large mixing bowl, rub cut garlic clove all over inside of bowl.  Place softened butter in bowl.
Remove cabbage wedges to serving platter.   With slotted spoon, remove carrots and potatoes to bowl with garlic/butter and stir to coat the hot veggies with the garlic flavored butter.  Sprinkle with parsley.
Remove beef to cutting board and carve thick slices across the grain.  Arrange on platter with cabbage.  Spoon a little of the hot braising liquid over the platter and serve immediately with mustard on the side, along with the buttered carrots and potatoes.