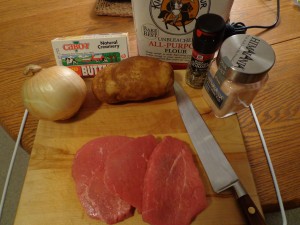 Ingredients:
1 lb lean beef round, cut into small dice
1 large russet potato, chopped into small dice
1 medium onion, diced
1 teaspoon salt & 1/2 teaspoon ground pepper
1 beaten egg
To make the pastry:
2 1/4 cups all purpose flour
3 oz cold butter, cut into bits
4 oz cold lard (or vegetable shortening), cut into bits
1 teaspoon salt
6 tablespoons cold water
In food processor, combine flour and salt.  Add butter and lard (or shortening) and process until consistency of sand.  Add cold water and process just until dough gathers into a ball.
Divide into half.  Wrap as a flattened disk and refrigerate 30 minutes.
You can substitute 1 package of pie pastry from dairy section of grocery store.
To assemble the pasties:
Preheat oven to 400 degrees.  Line cookie sheet with parchment or silicon sheet.
Mix the beef, potatoes and onion with seasonings in large mixing bowl.
Lightly flour work surface.  Roll out 1/2 of the dough into a round.  Mound 1/4 of the meat mixture in the center.  Moisten the edges of the round with a damp pastry brush, or wet finger.  Pull up pastry to the middle to form a half moon shape and pinch or crimp edges together.  Traditionally, the crimped edge is pretty thick as this is used as a handle with which to eat the meat pie.  Or an easier method would be to fold over dough to form a half moon shape lying flat and crimp the edge with a fork. Repeat with remaining dough and ingredients.  Place all on baking sheet as you are making them.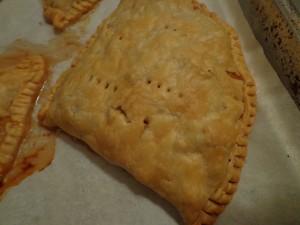 Brush outside surface with beaten egg.  Poke vent hole in top if making the flat version, or on both sides if making the traditional version.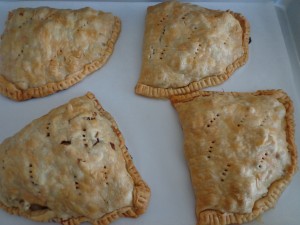 Bake in 400 degree oven for 25-30 minutes until golden brown.
Serve hot with ketchup or at room temperature.
Very freezeable.