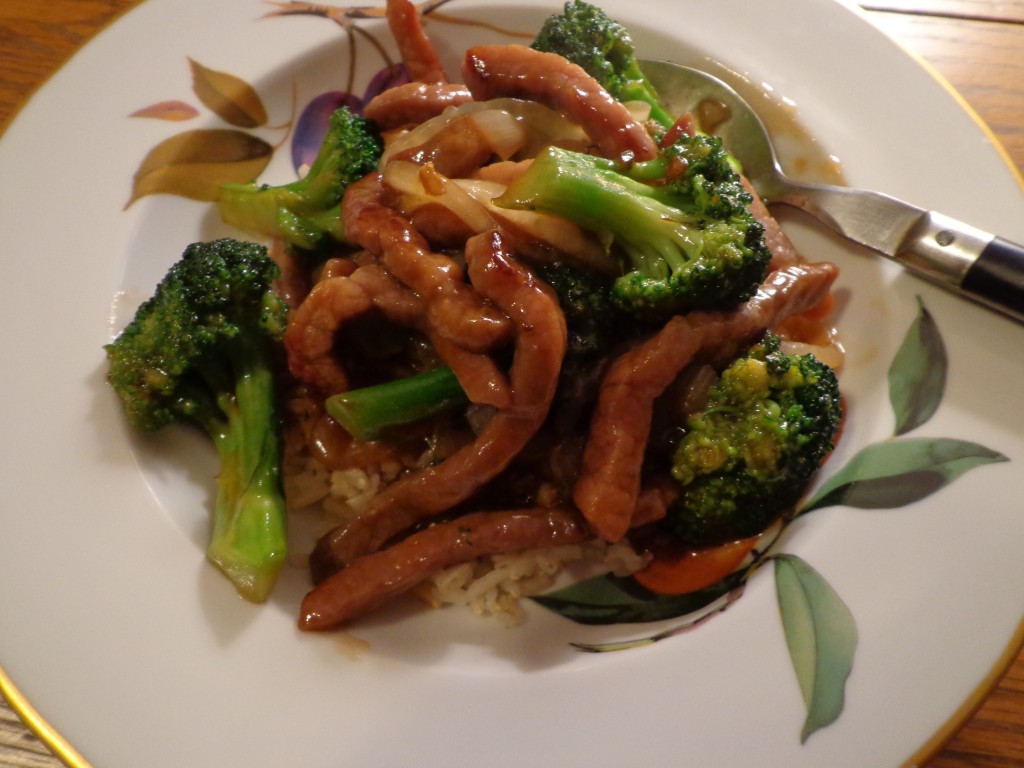 One of my family's long time favorite meals is an easy to throw together stir-fry of beef and  broccoli served over hot rice.  Usually a tenderloin, top sirloin or skirt steak sliced thinly across the grain provides a tender dish…but if you are feeding a large family and beef round steak is on sale, then do what the Chinese restaurants do to tenderize tougher cuts of beef….slice the beef into the cut you wish, then rub 1 teaspoon of baking soda into the beef, coating the sliced beef all over… and let sit for 1 hour.  When ready to marinate the beef, rinse the meat twice, thoroughly, and pat dry.  Now proceed with marinating the beef and follow the recipe.  The proportion is 1 teaspoon of baking soda (NOT BAKING POWDER) for 1 lb of beef.  Let sit for at least an hour, but do not allow to sit overnight or the surface of your meat will become gummy due to protein breakdown!  Rinse thoroughly before proceeding with your recipe as usual.
Traditionally, beef and broccoli is served over jasmine white rice…but for those who are health conscious and eating basmati rice these days (which takes longer to cook) and don't have an automatic rice-cooker handy, you can speed up your rice-cooking time by bringing a quart of water to a rolling boil in a pot.  You can add 1/2 teaspoon of salt if you wish.  When water is boiling, pour in 1 cup of rice.  When you can see the grains of rice dancing in the boiling water,  turn the heat down to a medium simmer.  Simmer for 10 minutes uncovered, until tender.  Turn off the heat.  Now drain the rice in a colander and return the colander of drained rice to sit over the hot pot to keep warm until serving time.  Any residual cooking water will continue to drain into the pot.  It will keep warm this way for about 20 minutes if covered, either with a lid or piece of foil.  Makes perfect rice every time without the fear of burning the bottom, or not having all the liquid absorbed by the end of the suggested cooking time on the package.
I mix the marinade/sauce beforehand, slice everything early…so that all I have to do last minute is stir-fry the beef & broccoli and keep the steamed rice warm.  The marinade ingredients can be kept in your pantry or refrigerator for many months, and the ginger root freezes very well if sliced into fat coins and sealed.  Just pull out a ginger root coin when you wish to make this dish!
Once you see how easy it is…your family will request beef 'n broccoli night often!
Beef & Broccoli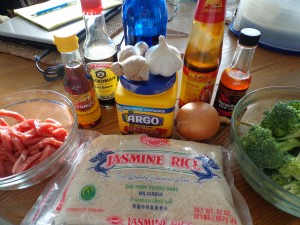 Ingredients:
1 lb beef, tenderloin, top sirloin or round cut into thin 1/4 inch strips
1 lb broccoli florets
1 small onion sliced
~3 tablespoons vegetable oil (I prefer peanut oil)
1 thinly sliced 'coin' of fresh ginger root
1 fat garlic clove, peeled and smashed
1/3 cup oyster sauce
1/3 cup dry sherry or white wine or beef broth or water
1 teaspoon sesame oil
1 teaspoon hot sesame oil – if desired
2 tablespoons Kikkoman soy sauce (naturally fermented light soy)
1 tablespoon cornstarch
Stir together oyster sauce, sherry, sesame oils, soy and cornstarch.  If made ahead, the cornstarch will settle to the bottom, so stir it occasionally to keep it suspended in the liquid.
If using a tougher cut of beef and you wish to tenderize it, first slice the beef into the size you will be stir-frying.  Then rub 1 teaspoon of baking soda per pound of beef into the meat.  Let sit for 1 hour.  Rinse twice with cold water and pat dry on paper towels.  Proceed with recipe.
Place beef in shallow bowl and pour marinade over it.  Stir to coat beef on all sides.  Let marinate at least 30 minutes.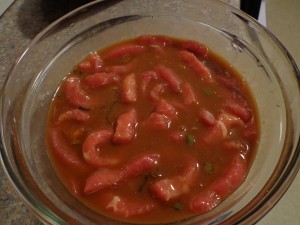 Heat oil in wok or large skillet over medium high heat.  Stir fry the ginger root and garlic about 1 minute until fragrant.  Remove and discard.
Add broccoli florets to cooking pan and stir fry 5 to 7 minutes until bright green in color and almost tender but still crisp.  (CAUTION: do not allow children to be around stir fry pan when dropping in broccoli as there will be sizzling oil)  Remove the broccoli from the pan.  If you prefer your broccoli cooked more, steam or parboil florets until your desired doneness, then rinse in cold water to stop the cooking and set aside.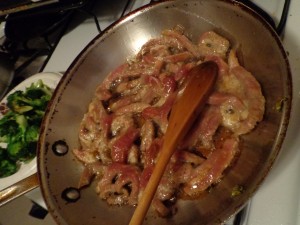 Pour small amount of additional oil into the pan if necessary.  When hot, drop beef strips into the hot oil.  (CAUTION: keep children away from stir fry pan as there will be hot oil sizzling when beef is dropped in) Do not touch the beef for 1 minute while it caramelizes on the bottom.  This develops excellent flavor, so be patient!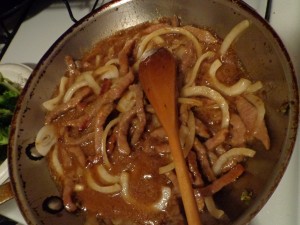 Add sliced onions. Now stir fry quickly for 1 minute more.  Add remaining marinade and stir to coat the beef pieces and allow the marinade to become a thick sauce…perhaps another minute.  If sauce is too thick, thin with a little broth or water.  Add back the broccoli and heat through, stirring to coat all the veggies.
Serve hot over rice.