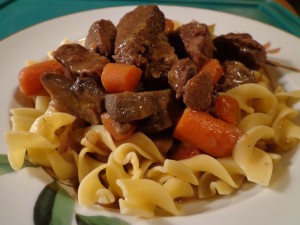 Since my grocery store was having a sale on Black Angus beef chuck today, I decided spur of the moment to make a large pot of beef stew comfort food…served over buttered noodles, nestled in a thick and rich gravy, dotted with carrots, potatoes, mushrooms, onions…flavored with celery, rosemary and bay leaf, simmered long and slow with a bottle of red wine…mmmm my apartment is filled with the aroma!  Perhaps I should have titled this Beef Burgundy…except I only had a bottle of Merlot handy…<grin>
I can't believe I've made it this far into winter and haven't yet simmered a pot of beef stew!  Well today, I remedy that!
Beef stew served over buttered noodles dotted with poppy seeds was a favorite in my old food shop, Country Cuisine.  Whenever we put it on the menu, it sold out fast!
Beef Stew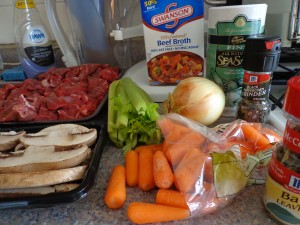 Ingredients:
3 lbs Black Angus beef chuck, cut into stew pieces
6-8 new red bliss potatoes
3 stalks celery, sliced
3 carrots, cut into bite-size pieces
1 lb portobello mushrooms, sliced
1 large maui onion
1 sprig fresh rosemary (optional)
2 bay leaves
salt & pepper to taste
1 bottle red wine
32 oz beef stock
2 tablespoons Worcestershire sauce
2 tablespoons Kikkoman soy sauce
In a large dutch oven or stew pot, heat a tablespoon of peanut oil and brown 1/3 of the beef pieces until nicely caramelized all over.  This is an important step and takes a little time, but the caramelizing developes a deep flavor to your stew.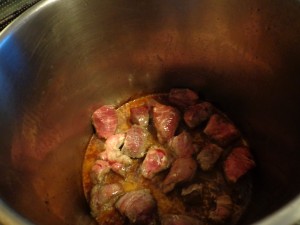 Remove to a dish, and repeat with the remaining 2/3 beef.  After the beef pieces are all browned and removed to a waiting dish, add the chopped veggies and sweat until translucent, stirring up all the browned bits on the bottom of the pot, which again, is flavor…about 3-5 minutes.  Add the seasonings and liquids.  The Worcestershire brings a subtle rich taste to the stew, while the mushrooms and soy sauce both add an umami depth.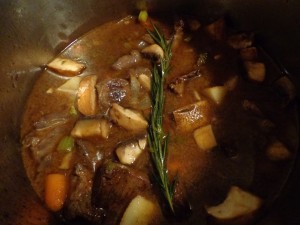 Bring to a boil, and reduce the heat to a simmer.  Cover and simmer 2 hours.
A half hour before serving, stir 1/3 cup of flour with 1/3 cup of cold water or broth until it forms a thin paste.  I keep extra small glass jars around with covers so that I can shake the flour/water mixture together to eliminate lumps.  Stir into the hot stew and cook for another 1/2 hour to thicken.  Correct seasonings.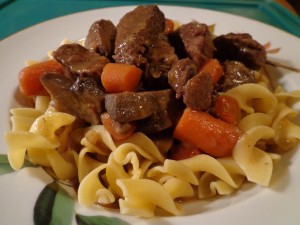 Serve over hot buttered noodles, rice, mashed potatoes or baked in pie pastry as a beef pot pie.  As a kid, this was served to us over hot rice.  At my food shop, Country Cuisine, it was popular served over hot buttered noodles sprinkled with poppy seeds.