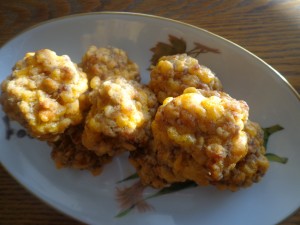 Here is an easy appetizer that appeals to finger foods & cocktail party goers. Especially appealing because it's quick to make and people seem to love them.  Perfect as a spicy appetizer for those outdoor bbq's coming up this summer.
Although I'm using hot breakfast sausage here, you can use any raw sausage flavor you prefer…chorizo, sage, Italian…etc.  And I have some homemade biscuit mix on hand in my refrigerator, however you can substitute Bisquick Mix if you wish.
Sausage & Cheddar Bites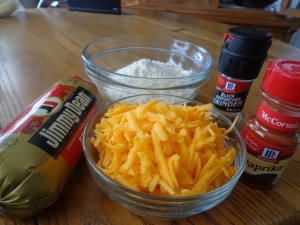 Ingredients:
1 lb raw sausage without casing, breakfast, Italian, chorizo, etc
3 cups biscuit mix (see homemade recipe or use Bisquick Mix)
2 cups shredded cheddar cheese, or Monterey Jack, Pepper Jack etc
1 teaspoon paprika
Preheat oven to 350 degrees F.  Line cookie sheet with parchment.
In a large mixing bowl, mix all ingredients until combined.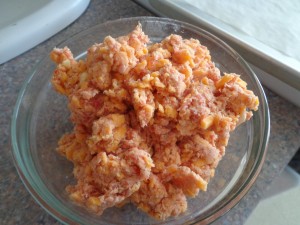 Roll a heaping tablespoon between your palms until round and place on cookie sheet.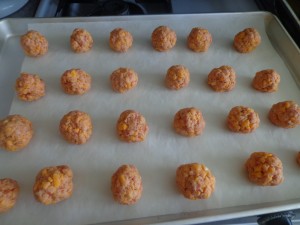 Bake 15 to 20 minutes until golden brown.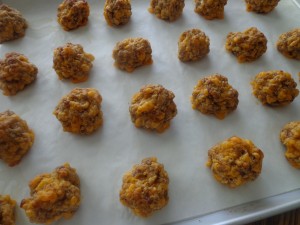 This recipe will make 2-3 dozen balls, depending on the size you make.