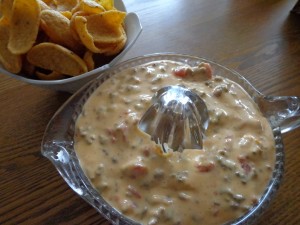 This quick recipe is a no-brainer and loved by everyone who likes a little heat in their queso dip.  I've been making this cheese dip for a couple of decades, after it was shared with me by a Texan friend.  It has become a staple dip for tex-mex nights.
Rotel tomatoes are a specialty brand of chopped tomatoes with jalapenos, ranging from "original" to "very hot".  You will find these tomatoes in your canned tomato aisle usually…or look in the Mexican section.  I'm sure many of you will recognize them after their TV ads this past holiday season.
Men and kids in particular love this hearty dip because it's something they can make themselves with very little kitchen utensils.  So keep this appetizer in mind for the upcoming superbowl event.
And YES…I am serving the hot dip in my grandma's citrus juicer…why not?  Very effective for dipping all around:)  An unusual serving dish, yes?  Think outside the box!
So here are the basics: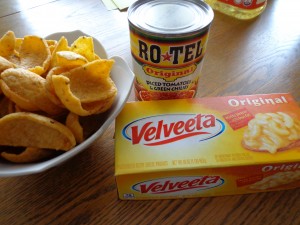 Ingredients:
1 lb brick of Velveeta cheese, cut into cubes
1 10oz can Rotel tomatoes, your choice of hotness
1/2 lb hot breakfast sausage or ground beef, browned and drained
1 small can jalapenos, either mild or hot
chips of your choice
Now the hard part.  After browning the meat, and draining the excess fat…in the same pan, dump a can of Rotel tomatoes and add the Velveeta cheese cubes.  Stir over low heat until melted.
You can leave out the meat and additional jalapenos altogether.
Serve with chips of your choice.  Easy, huh?