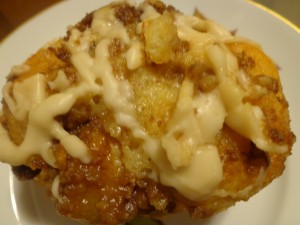 Years after enjoying the wonderful flavor of the perfect peach muffin at what used to be known as Po'folks and is now Folks southern restaurants…I'm still trying to recreate that same heavenly taste experience here in ole Beantown (Boston).  This is my latest version. I'm looking for a sweet peachy taste, which I'm achieving by macerating fresh ripe peaches in their own juices, extracted by using a little sugar and allowing them to sit for some time, then mixing the drained peach fragments with some peach jam to carry that concentrated peach flavor throughout the muffin batter….resulting in a finely grained muffin texture that is moist and soft, similar to that of cake, interwoven with fragments of sweet peach.  Since I love the combination of pecans and peaches, I created a buttery pecan streusel which adds a hint of cinnamon, layered through and topping each muffin.  Then, just to add one of my favorite finishing touches to take it over the top, I'm drizzling them with a simple maple glaze, which never appeared on the Po'Folks version.  I dare you to eat just one!
Peach Pecan Muffin with Maple Glaze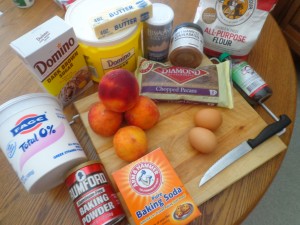 Ingredients:
For the peach filling:
5 ripe peaches
1/2 cup granulated sugar
1/2 cup peach jam
For the pecan streusel:
1 cup chopped pecans
1/3 cup brown sugar
1/4 cup all purpose flour
1 teaspoon ground cinnamon
2 tablespoons melted unsalted butter
For the muffin batter:
2 cups all purpose flour
1/2 teaspoon sea salt
1 teaspoon baking powder
1 teaspoon baking soda
4 oz unsalted butter (1 stick) at room temperature
1 cup granulated sugar
2 large eggs at room temperature
1 cup Greek yogurt at room temperature
1 teaspoon pure vanilla extract
For the Maple Glaze:
1 cups confectioners sugar
4 tablespoons pure maple syrup (Amber Grade B for more intense flavor)
To peel, pit and chop the fresh peaches, rather than plunging first into boiling water for 30 seconds then shocking them in ice water for 30 seconds to remove the skins…I just cut each peach in half, remove the pit, slice each half into thirds and with a sharp paring knife I cut off the skin then chop each slice.  For just 5 peaches, the time spent doing it either way is the same, so whichever way you prefer is fine.  Sprinkle the 1/2 cup of sugar over the peaches and stir to coat.  Then set it aside for 1 hour at room temperature to macerate, which draws out the peach juices (or they will keep covered in the refrigerator for 4 days this way).  The macerating process prevents any discoloration due to oxidation.  Just prior to starting the batter, drain the peaches and reserve the juices.  Now mix the 1/2 cup peach jam into the peach fragments.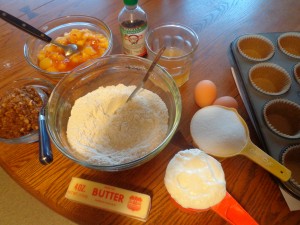 Prepare the streusel:  Place the pecans, sugar, flour, cinnamon in a food processor. Process only a few pulses to combine all the ingredients but not enough to grind the nuts too finely.  Now add the melted butter, and process only to moisten.
Preheat oven to 400 degrees F.  Line or grease 18 muffin cups.
Mix the flour, salt, baking powder and baking soda together and set aside.
In a large mixing bowl, using paddle attachment, cream butter with sugar for 2 to 3 minutes until light and fluffy.  Add whole eggs, one at a time, mixing in between to combine.  Add yogurt and vanilla and blend briefly.
Add the dry ingredients, and mix very briefly just to moisten all the ingredients.  Over mixing can toughen the texture of the muffin because you are then forming gluten which you want in bread dough, but NOT in muffins.  Fold in the drained chopped peaches mixed with peach jam.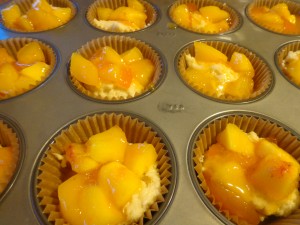 Scoop the batter into each muffin cup:  filling halfway with batter, sprinkling with 1/2 tablespoon of the streusel, then filling the cup to 2/3 full with more batter and finishing with a generous amount of streusel on top.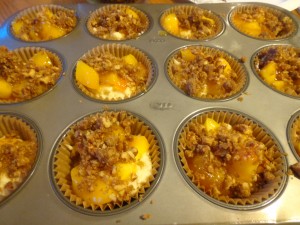 Bake 20-25 minutes.  When golden brown, remove from the oven.  Poke the tops of all the muffins with a toothpick multiple times.  Now spoon the reserved peach juice all over the tops of the warm muffins to soak in.  Do this very slowwwwwwly so it will soak into the muffins, not run over the tins onto the counter…trust me, experience speaking here.
When cooled, mix the confectioners sugar with the maple syrup until the correct consistency for drizzling with a fork.  You may have to play with this, adding more sugar or more maple syrup until you can drizzle it freely from fork tines (but not completely liquid).  Drizzle the glaze back and forth over each muffin with a fork.  This glaze puts it over the top…but is not required for a moist, delicious peachy muffin.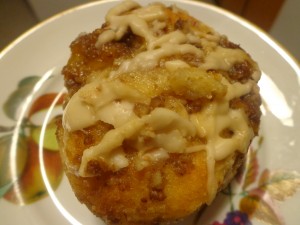 You can also bake this in an 8 x 8 inch pan.  Bake 30 to 40 minutes until raised and golden.  Drizzling the peach juice won't be as messy as with the muffins…and you can certainly still glaze it with the maple glaze.