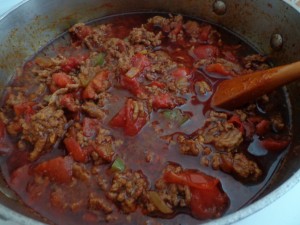 As a kid growing up, I used to love spicy homemade chili ladled over a bowl of hot rice! I'm sure my Mom loved to cook a huge pot of chili because it fed a large family of 5 hungry kids and was quick and easy to make!  She would throw together a pot of chili and set it on the back burner to simmer for the day while she was outside gardening.
Since my Dad had an ulcer, we didn't often have the culinary opportunity for spicy foods (I never did find my Mom's secret stash of kimchi although I know for a fact that she made her own).  This particular way of serving chili over hot rice has held over since my childhood.  As my own children grew, I always offered rice as the accompaniment to my own chili.  Living here in New England, I notice that New Englanders like their bowls of chili served with crackers. Southern afficiandos prefer theirs served over cornbread.  Watching the Food Network, I see folks serving chili over spaghetti and french fries, hot dogs and hamburgers and even corn chips!
Make this chili recipe your own and create your personal version of chili heaven!
Mom's Chili from Scratch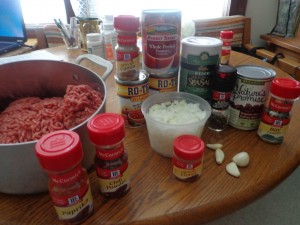 Ingredients:
2 lbs ground beef (80//20 blend)
2 tablespoons oil or bacon fat
1 large onion, diced
4 cloves garlic, minced
1/2 green pepper, diced
1 pint grape tomatoes, halved
1 16 oz can of whole tomatoes, cut up or squashed in hand
10 oz can of Rotel tomatoes with green chiles
6 oz can of tomato paste
1 bay leaf
2 1/2 teaspoons sea salt
6 tablespoons chili powder
2 tablespoons cumin
1/2 teaspoon ground cloves
1 teaspoon ground black pepper
1 teaspoon paprika
pinch of sugar
1  4 oz can of green chiles – optional
2 dried red chili peppers – optional
1/4 teaspoon cayenne pepper – optional
2 cans kidney beans, or black beans, drained & rinsed
In large soup pot, heat the fat up.  Add the 80/20 (blend of meat to fat ratio) ground beef, and brown over medium heat.  Add the onions, green peppers, garlic and cook for 5 minutes.  Add the spices and tomato paste and cook for 5 minutes more to bloom the oils in the spices, caramelize the tomato paste, and develop their flavors.  Add the tomatoes, scraping any browned bits from the bottom of the pot.  Bring to a boil and turn down, to a simmer.  Simmer on low for 1 hour.  Add the beans and heat through. Remove the bay leaf.  Correct the seasoning according to your personal taste.  If you love cumin, add more.  If you enjoy heat, use Hot Mexican Chili powder instead.  Add Tabasco sauce if that's your poison.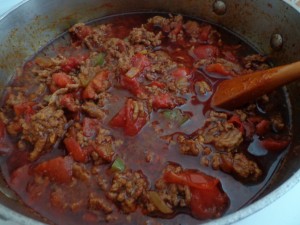 Serve with freshly baked cornbread or over hot rice, or in a bowl with crackers.  I have added it to elbow macaroni and made chili mac & cheese.  Coney Island hot dogs are one of my fav ways to enjoy chili…but that's a different chili concoction entirely.
Keeps for a week in the refrigerator or freezes well.