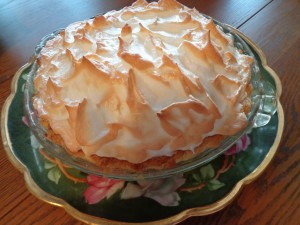 Lemon Meringue Pie is one of my penultimate favorite pies.  With just one of me, I hardly ever make it anymore…but I felt the yen today for something lemony, and happened to have two ripe lemons on hand…and a desire to make vodka pie crust.
Although a little labor intensive, blind baking a flaky crust…then juicing and zesting the fresh lemons…then cooking the lemon custard on the stove…finally whipping up the meringue and baking it until golden brown….  a labor of love!  But oh, so rewarding!
Both Alton Brown (my hero because I LOVE to know what makes things work) and James Beard pretty much agree on this basic lemon meringue pie recipe…one I've been using for the last 40 years.
Please remember to separate the eggs while they are still cold, as they separate much easier then.  Immediately place the whites into your mixing bowl and set aside for the meringue, as the whites will whip into a greater volume if room temperature.
I often will juice and zest fresh lemons, then combine them and freeze them in ice cube trays, so that I always have cubes of lemon juice & zest available.  Great for salad dressings!
I am making a full batch of pie crust but dividing it into half and freezing the other half.  I have in mind making a Key Lime Pie soon <grin>.
Cook's Illustrated came out November 2007 with this revolutionary way to insure a flaky, tender dough that is still easy to put together and roll out.  The vodka evaporates in the baking process, however its addition gives you the liquid necessary to create a user friendly pie dough yet still yields a delicious, flaky and tender crust.  Water and flour come together to form gluten, which toughens the final pastry if overworked or overhydrated.  Alcohol and flour do not form gluten, yet gives you the ability to work the dough easily.  Go to their website for a video on how to create this recipe.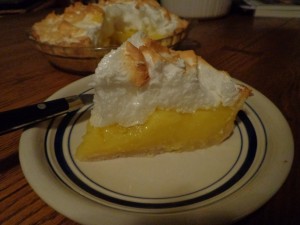 Lemon Meringue Pie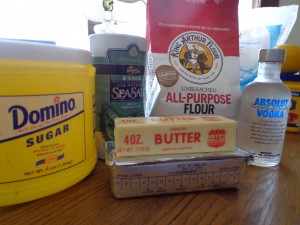 Vodka Pie Crust Ingredients:
2 1/2 cups all purpose flour
2 tablespoons sugar
1 teaspoon salt
12 tablespoons unsalted butter, cut into chilled bits
1/4 cup chilled shortening, cut into bits
1/4 cup ice water
1/4 cup ice cold vodka
In food processor, measure flour, salt and sugar and process briefly to mix.  Add butter bits and shortening bits and process only until small pea-size consistency.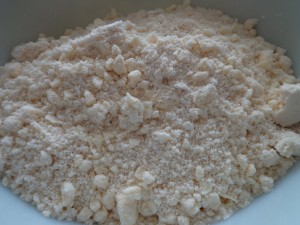 Dump into a mixing bowl and add the cold liquids.  Using a spatula, fold the water into the flour/fat mixture.
Divide into half and heap onto two pieces of plastic wrap.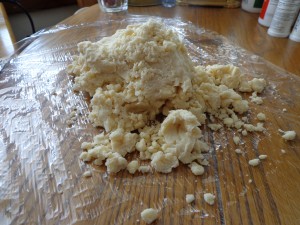 Using the plastic wrap, squish each mound into a cohesive ball, wrap then flatten into a disk.  Refrigerate 45 minutes or freeze for future use.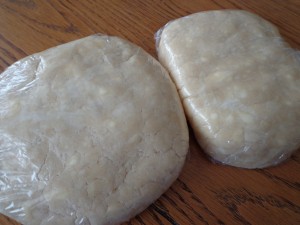 Preheat the oven to 425 degrees F.
Being adverse to cleaning up, I rolled one of the disks between two sheets of plastic wrap with a rolling pin, until approximately 13″ in diameter.  Note that you should still be able to see bits of butter in the pastry.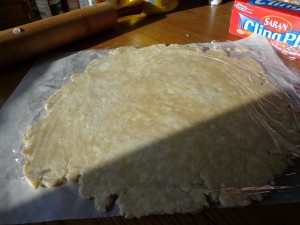 Removing one side of the plastic, I placed the pastry into a 9.5″ glass pie dish and gently pressed it into the corners of the dish.  You may or may not wish to decoratively crimp the edges.  Having no dry beans or pie weights handy, I simply pressed a piece of parchment paper into the pastry and placed an ovenproof dish in the bottom of the pie dish.  As the oven heated up to 425 degrees F, I refrigerated the pie dish.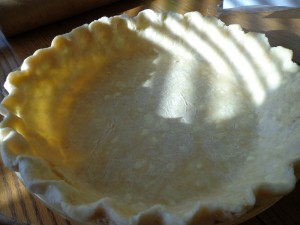 Bake for 12-15 minutes until golden brown.  3/4 of the way through the baking process, I removed the dish using the corners of the parchment paper and allowed the pastry to finish browning.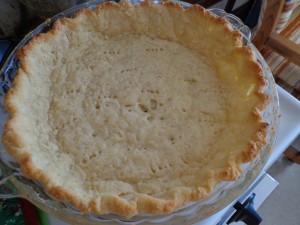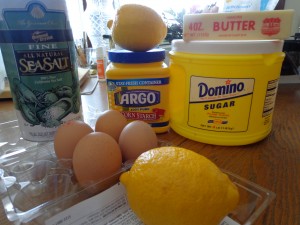 Ingredients for the lemon custard:
1 1/2 cups water
1 1/3 cups granulated sugar
1/3 cup cornstarch
1/4 teaspoon sea salt
4 egg yolks
1/2 cups fresh lemon juice
1 tablespoon fresh lemon zest
3 tablespoons soft unsalted butter
In a 3 quart saucepan combine the water, sugar, cornstarch and salt with a whisk until dissolved.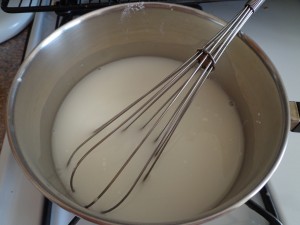 Over medium heat, stir the mixture until it comes to a boil and has thickened.  Allow to boil 1 minute.  With your whisk, scoop a whiskful of hot custard into the egg yolks and whisk to combine….then pour the warmed egg yolks back into the custard and allow to cook for another minute.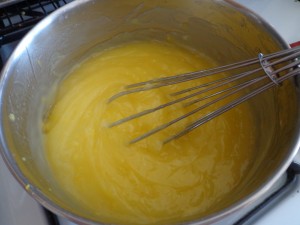 Turn off the heat and stir in the juice, zest and butter until all is smooth.  Pour hot custard into the crust.
Ingredients for the Meringue:
4 egg whites at room temperature
1/4 teaspoon cream of tartar
2 tablespoons granulated sugar
In a large mixing bowl, using the whisk attachment, whisk the whites on medium speed with the cream of tartar until frothy.  Drizzle in the sugar.  Turn the speed up to high and continue whisking until stiff peaks form.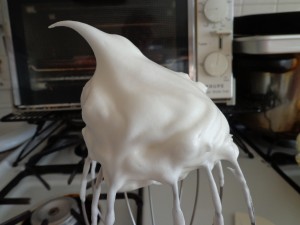 Pour the meringue onto the hot custard and push all the way out to the crust, making sure the meringue touches the crust all the way around (to prevent shrinkage during the baking phase).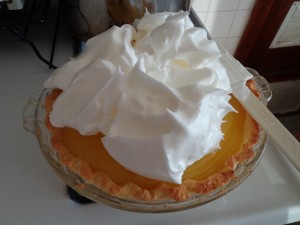 Using a spatula you can smooth the meringue all over the top into a pattern of your choosing, or smooth it out.  I like wavy ripples….it looks so homemade.
Bake for 8-10 minutes until golden brown.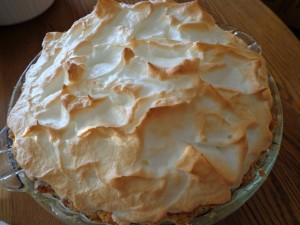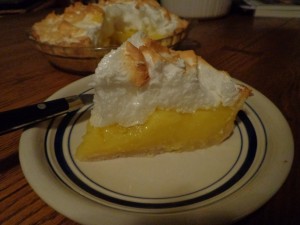 Cool completely before cutting.  Refrigerate to store.