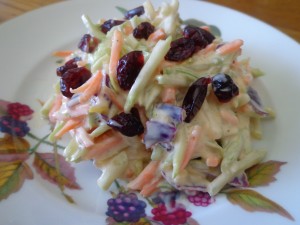 Broccoli Slaw is a tasty combination of highly nutritious raw, shredded carrot, purple cabbage, broccoli and juicy craisins…all dressed in my fav thousand island dressing.  A crunchy melange of tart and creamy…a perfect foil to a pulled pork sandwich.  I don't have to mention how healthy all these raw veggies are…right?  I've got to recommend adding either raisins or craisins to your coleslaw, no matter what the veggies used.  The tart sweetness of these wee dried nuggets of nutrition add a great flavor and texture to the ordinary coleslaw.
Broccoli Slaw with Craisins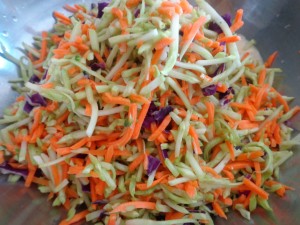 Ingredients:
1 head broccoli, chopped or shredded
2 medium carrots, chopped or shredded
1/2 small head purple cabbage, chopped or shredded
5 oz Craisins
1 recipe for Thousand Island Dressing
Thousand Island Dressing:
1 cup of your favorite mayonnaise
1/4 cup of your favorite ketchup
1/4 cup of sweet pickle relish
Mix all the dressing ingredients together in small bowl.
In large salad bowl, toss all the salad ingredients with the dressing.
Refrigerate.  Keeps well for several days.