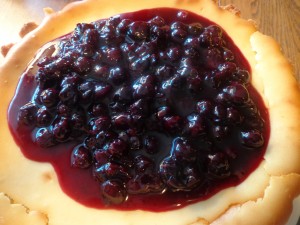 How can a cheesecake be moist and dense, yet light and delicious?  My mouth is watering just remembering this delectable blueberry cheesecake!  This satisfies all your rich cravings for a sweet, dairy dessert that not only melts in your mouth but is beautiful to present too.  And I'm not even a blueberry fan…I just happened to have fresh native blueberries available.   Everyone's got their own version of a delectable New York cheesecake…and this one produces a satisfying dessert with a texture and flavor that all of your family and friends will rave about!
The secret to cheesecake is in not over-baking it.  Baking it in a bain marie (water bath) will prevent the cheesecake from cracking on top, but believe it or not, a cheesecake can be dry from over-baking….if you have an instant-read food thermometer, just check the temperature for 160-165 degrees F.  The top should be firm and dry and golden brown and will puff up…but the middle may still look soft.  This is fine.  It deflates and firms up when refrigerated.  However, don't be alarmed if your cheesecake does develop a crack…simply pour your favorite fruit topping on top and no one will ever know!  A lesson learned from Julia Child.
I am not a fan of graham cracker crusts.  So I use either unbaked pecan shortbread or lemon cookie dough that I keep in my freezer, pre-baking then cooling the crust in the mold before pouring in the cheesecake batter, or I use baked cookies and process them in my food processor until they become fine crumbs and proceed like they were graham cracker crumbs.  The crust is not meant to over-power the deliciousness of the cheesecake, merely to deliver each morsel to your lips.
Blueberry Cheesecake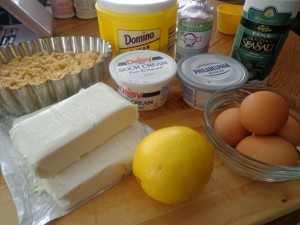 Ingredients:
cookie crumb crust
2 lb cream cheese, at room temperature
4 oz sour cream
4 large eggs
lemon zest of 1 lemon
juice of 1 lemon
1/2 teaspoon sea salt
1 1/2 teaspoon pure vanilla extract
1 3/4 cup granulated sugar
Fruit Topping:
1 pint of fresh blueberries or other fruit, washed
1 lemon, juiced and zested
2 tablespoons sugar
With the rack in it's lowest position in your oven, preheat oven to 350 degrees.  Press crust along bottom and sides of an 8 inch spring form pan.  Wrap pan in aluminum foil to prevent water seeping into the crust during baking in the bain marie.  Set inside a larger shallow baking dish. Set aside.
In large mixing bowl, cream the cream cheese on medium speed for 2 minutes until smooth and creamy, scraping sides if necessary.  Add vanilla and sugar and beat well until incorporated.  Add eggs, one at a time, beating well after each.  Add sour cream and salt.  Stir in lemon juice, zest with spatula.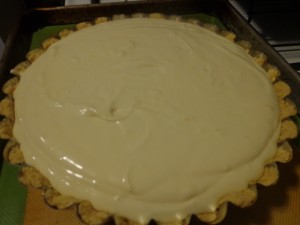 Pour batter into crust.  Place baking pans on oven rack and sill larger pan halfway with hot water.  Bake 1 to 1 1/4 hours.
The top will be firm and dry and golden brown.  It will puff up, but the middle should still be soft.  An instant-read thermometer should read 160-165 degrees. Do not continue baking until the whole top puffs up like a souffle.  Your cheesecake will deflate and firm up upon refrigeration.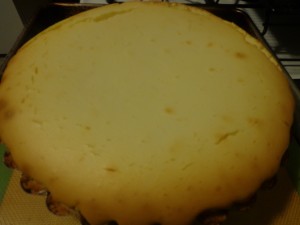 Prepare the fruit topping:  Place 1 pint of fruit in saucepan along with lemon juice and zest and sugar.  Simmer over medium heat 5 minutes to break down the fruit.  Let cool.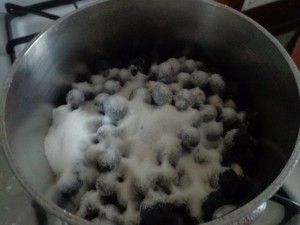 Lift the pan out of the hot water and let cool 3 hours.  Refrigerate overnight, remove sides and serve with your favorite fruit.